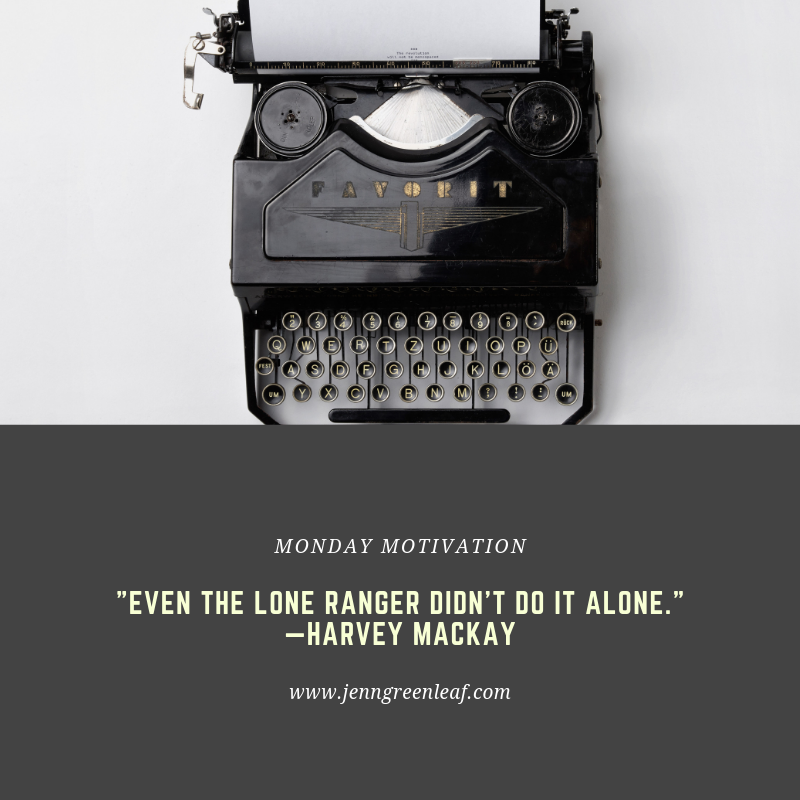 This week, I'm writing a lot about the life of a freelance writer. The focus seems to be falling primarily on how to build a quality freelance writing relationship. So, that's the theme of this week's Monday Motivation. The main reason is that networking is integral in this business we're all attempting to build or are maintaining.
Take the quote I'm using for today's Monday Motivation, for example, "Even the Lone Ranger didn't do it alone."—Harvey MacKay. I selected that quote because we're not working in a vacuum. There's no such thing as a freelance writer not needing another freelance writer. We need each other for a variety of reasons including:
Keeping each other sane: there are days when lonliness creeps in and having someone else to interact with who knows the up's and downs of the business is valuable.
Support: every freelance writer experiences a rejection or loses clients. When this happens, receiving support from others in the business is essential.
Advice: it's impossible for one freelance writer to learn everything on their own. When they network with other freelance writers and build quality freelance writing relationships, it helps them learn more about the business. In turn, they can also share what they know with others.
Sharing: when opportunities crop up in their social media feeds or profiles that freelance writers aren't qualified for, they can share these leads with their freelance writing network. Or, they may find them if their feeds contain the same.
Being part of a thriving and quality network is an incredible way of maintaining freelance writing motivation. Embrace this tactic by finding quality additions to your social media networks.
What does this mean?
Instead of adding just "anyone" to your social media to gain "numbers," look for freelance writers who will add value to your network—and ensure it will be a two-way street. Will you be able to add value to their feeds and do you believe you'll be able to develop a quality relationship of some kind? If the answer is yes, then they're a quality addition.
How do you develop quality freelance writing relationships?