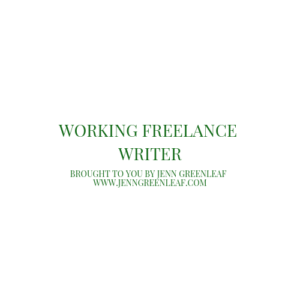 Today, I'd like to announce that Working Freelance Writer  is officially launching. What will you find in this publication?
How to tips for those who would like to break into a freelance writing career.
The do's and don'ts of being a freelance writer.
Misconceptions of what it's like to work in the freelance writing industry.
Where to find freelance writing work online and in print.
How to pitch new ledes and contacts.
What it's like to be an "active" and working freelance writer.
Why Did I Start Working Freelance Writer?
I've been a working freelance writer since November 26, 1999. So, I decided to take these nearly twenty years of experience and help others. I come across many who want to:
Improve their writing skills
Overcome writer's block
Become better at self-promotion
Stop fearing rejection
Work on getting themselves "out there"
Figure out their niche
Determine who their target audience is
Develop better querying skills
Can I help potential writers overcome these obstacles? My hope is the content I deliver will inspire writers to – WRITE. I also hope I can help them find work, develop their skills, and answer questions that come up along the way. If I can't answer their question, I'll do my best to point them in the right direction.
How Often Will I Publish?
Initially, because Working Freelance Writer is a new publication, I'm going to publish a lot. Frequent publications will help me build its platform and develop an archive for writers to use as a reference. After that, I'll develop a posting schedule based on demand. So, stay tuned for that. For those who have interest, there's a Facebook page and group that will contain updates and other publication information.
Please Contact Me
As always, if you have any questions, feel free to contact me anytime. If there's a topic you'd like to see me cover on Working Freelance Writer, please reach out. I'm open to suggestions.