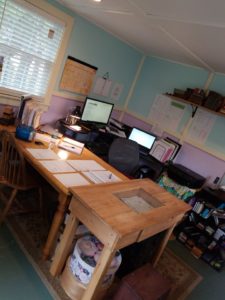 A Little About Jenn
Jennifer M. Greenleaf has been in the writing and publishing industry since November of 1999. For those of you who are keeping track, that's one month before she gave birth to her oldest son. (Right?) That means you'll find clips from her as Jennifer Hollowell or Jennifer M. Hollowell, as well.
What Does She Do?
Right now, her focus is on ghostwriting articles, blog posts, website content, and white papers for clients. From time to time, you will see bylined articles and blog posts from her, as well.
Where Can you Find Her Working?
Jenn has portfolios on the following sites:
Jenn is a Freelance Writer
She's a writer!
She delivers high-quality content on time and on-spec.
Jenn is an Entrepreneur!
She's a Designer!
You'll find periodic updates regarding her photography designs, as well!
Jenn's Dependable
She's in her office daily!
Her office is a renovated building in her backyard that she loves working in, so she's there daily!
Would you like to work with Jenn?
If so, you can reach out to her anytime! She's impressively responsive to email!