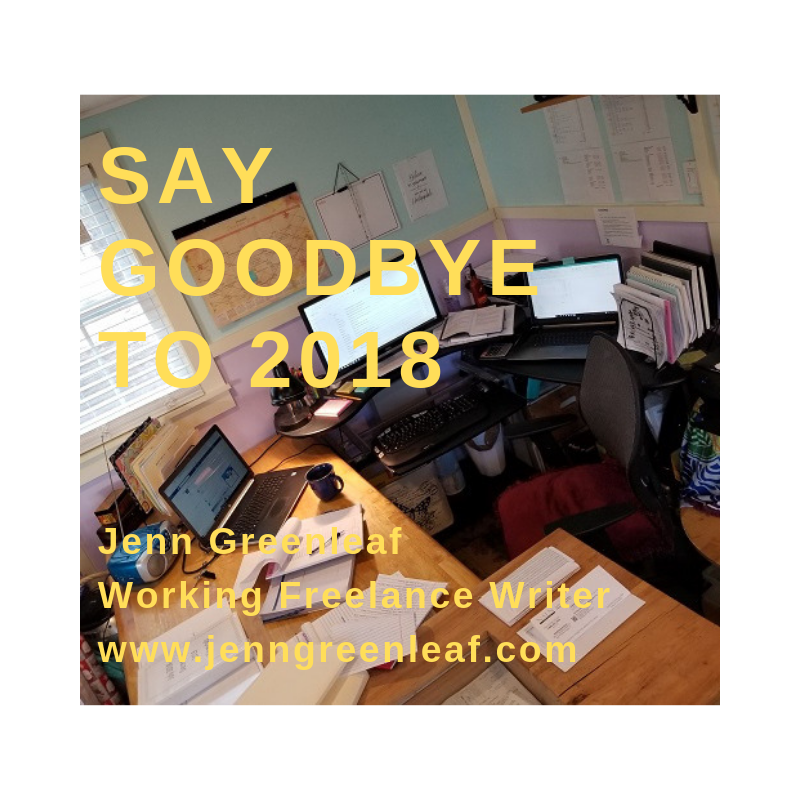 This weekend is all about wrapping up the year and saying goodbye to 2018. What does it mean to say goodbye to one year and hello to the next as a freelance writer? For me, it means a lot. As you can see from the picture of my desk area above, I wrap up quite a few things. My to-do list is lengthy at the end of each month and even longer at the end of the year. Not only am I organizing financials for tax purposes but I'm also clearing the path for new opportunities.
Filing Away Pitches
I keep track of every pitch I send out. The main reason I do that is that, if they're not successful, I may be able to pitch them elsewhere. If they do work out, I use those pitches as a formula for others in the future—or—I determine how I can reformulate them into other pitches I can use within the same niche. Many freelance writers use a spreadsheet or track them digitally.
I'm old-school and prefer tracking mine in a notebook. One of these days I may catch up with the rest of the technological freelance writers but, in the meantime, I love the actual act of writing on paper.
Organizing Invoices
When invoices are final, I like to have a digital and hard copy. Too many times throughout my career, I've experienced a crash and lost everything. These crashes occurred before the days of the "the cloud," but those moments stuck with me, and I can't seem to allow myself to move completely toward trusting a method whereby everything has a complete digital backup.
I have cloud storage, an external hard drive, and thumb drives. So, I have the capabilities. I also have hard copies. Therefore, my invoices go into binders so I can refer to them if necessary during tax time. I also keep hard copies of the spreadsheets I track all of my monthly income totals. I track what I earn per day writing, as well as my goals. I save a copy to the cloud, print a copy to hang on my wall (I refer to it a lot), and print a copy for my financials binder.
Calendaring
The need to see things in front of me tangibly is also a requirement for my freelance writing success. When I have a large desk calendar hung in front of me with deadlines, appointments, and other dates of significance, I feel inspiration and motivation. Using this method has been working for me in all of my office settings dating back to when I was a store manager in Albuquerque, New Mexico in 1997, so I doubt it will change anytime soon. So, today, my new wall calendar goes up.
I also have a daily planner I use throughout each day that I write my to-do lists in, as well as each task as I finish them. For example, if I'm working for a client with a specific list of articles they want me to finish, I write their name in the to-do, and then the articles in the "notes" section of the day as I complete them. Then, I have a journal entry for the day when I finish.
Paper File Clean-Out
As I have already mentioned, I'll never be entirely digital. When I receive new information from clients, especially when it's a style guide or packet containing a significant amount of information I need to comb through, I print it out. I have separate files for each of my clients containing each of the jobs I've completed since I relaunched my freelance writing career in July. I may need to empty these files quarterly because they're quite thick.
Retaining this information has been helpful as I've had to refer back to it frequently when tracking down payments, looking back on guidelines, or verifying information the client updated. So, because being a writer is just as much about running a business as it is about writing, this record retention has served me well.
These are my "paper" tasks. I have many other tasks to help me say goodbye to 2019 including further developing my editorial calendar for this blog, as well as my publication, "Working Freelance Writer." Needless to say, the next three days are going to be busy!
How are YOU saying goodbye to 2019 as a freelance writer?